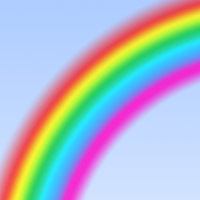 Whereas Lou Dobbs gets it right last week (seen here), someone named Star Parker (whoever that is) got published in my paper this morning about the "marriage amendment".

You can read the foolishness here.

All done?
Yea, whoever they are, they are a little insane for sure.

Missing from the column about how we as Americans can unite and marginalize an entire group of people was support for further legislation that would also ban divorce in most circumstances.

Surely if those that oppose gay marriage are REALLY worried about the institution, they would support making divorce illegal.
Then again, if divorce was outlawed, only outlaws would divorce.

(BTW, the above three sentences are the body of the email that I sent to the editor of the Tribune)

Please, can we just get back to the business of RUNNING THIS DAMN COUNTRY!!
Oh, what do you think of the rainbow, nice touch or whut?