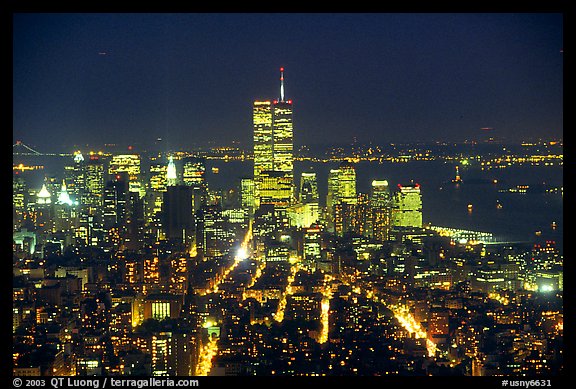 Let us all take a moment to remember those that have lost their lives in New York, DC and around the world because of the events of September 11, 2001.

In the hours and days that followed, the saddness and the shock were tempered with the love and support from all over the globe. Friends and countrymen - some, who in the big picture have survived worse - were stunned at the horrible attack.

At the time, America was seen as the land of the free, leader of the world in so many ways and New York City the capital of it all.
In a sense, the world was attacked that day because people from all corners of the globe have passed through that harbor and lower Manhattan on their way to a dream here. My paternal grandparents included.

What saddens me now almost as much as the loss of life between then and now is the state of our nation and the state of our standing around the world.

What could have been a defining moment for the leadership of our country, turned into a chance for war profiteering and to divide our people.
Rather than say we're going to conserve, unite, build and we're going to work with the rest of the world, we bombed two countries into rubble and set loose a chain of events that both scattered terrorists far and wide and gave them a place to literally fight on a front.
Our bumbling Homeland Security under the eyes of a bumbling phony Texan and his cronies have not made us safer.
A hamstrung FEMA couldn't even rescue a handful of poor folk after the result of a storm we actually saw coming.
You and I can't bring a bottle of Arrowhead on a plane, but our ports and our borders are practically wide open.
In place of real leadership, we got talking points like "war on terror", "stay the course", cut and run" and the most dumb of all "islamo-fascism".
And don't forget tax cuts for the most wealthy among us..

Iraq is a disaster and I'm not going to even go into the reasons again why, because either you're listening to reality or you're listening to BushCo.
In the end, this will cost thousands of lives, limbs and at least a trillion dollars to secure those Mesopotamian oil fields.

While we all love our country and what we are capable of doing, the steps taken to get us where we are now have to be undone.
Our freedoms are too precious, our standing in the world community is too important and what we STAND for has to be returned to that of the greatest free nation.



People have streamed though New York Harbor and lower Manhattan for over a century. On the way, they watched in wonder cruising past Liberty Island. And though proud of who they were and where they were from, now planted their feet on the ground of the United States of America in search of that place where they could melt into this pot of many nations, many people and the freedoms of our great nation.
As this year comes closer to an end, I believe that we CAN undo the steps taken that have changed our nation for the worse.
It's only temporary.